LamDor™ Internal & External Timber Doors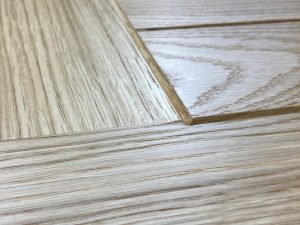 Humphrey and Stretton Lamdor doors use a flush door blank which is constructed from laminated timbers. Core density is approx. 480kg/m³ making them inherently lighter than an equivalent Vendor – but all Lamdor doors come with a Ply or MDF facing, so they are incredibly hard-wearing and thus suitable for a demanding external environment.
Sealing the core is important to retain the integrity of the door, so special care is made to ensure all Lamdor doors are lipped on all 4 edges and should be painted / sealed to prevent water ingress.
When used internally, a Lamdor shares many qualities with a Vendor but its solid timber core construction offers a lighter yet stronger advantage over the particleboard core. With a similar severe duty rating and availability as an FD30 or FD60 door, the Lamdor is also very versatile.
Similarly to the Vendor, Lamdor doors can be manufactured with a variety of different facings / finishes, however there are some limitations if used in an external environment.
Paintgrade: Using a special paper-based MDO (Medium Density Overlay) on all paintgrade doors up to 1200mm wide offers great surface preparation for application of paint – minimising the finishing time required on site. Special care should be made to ensure the door core is completely sealed to minimise water intrusion.
Veneered: A wide variety of veneers are available for selection, from Oak, Beech, Ash and Maple to more exotic veneers and specialist figured veneers. If it can be sourced in Europe we will help to find your desired veneer facing, no matter how exotic or rare. It is not recommended that a veneer is used in an external environment. If the door is very sheltered, or if the location is an intermediate door we will be able to offer our recommendation on the suitability of a veneer finish.
Laminated: Pressed onto the face of the door concealing or leaving the lippings exposed a laminate offers a distinctive full-colour facing to a door leaf. We can source laminates from the likes of Formica, Polyrey and many others, but lead times will vary depending on UK stock levels. With a vast spectrum of colours, patterns and even wood-effect laminates available we are seeing the market favour this finish more and more in schools and office environments. Similarly to veneers, laminates should not generally be used in an external environment unless sheltered from the elements.
Factory Paint finish: Carried out off-site, a factory-applied spray paint finish offers a very superior paint covering. Prices vary with colour selection, so please enquire with the relevant colour reference or RAL code for an accurate estimate. Specialist external paints can be specified – please enquire.
PVC Encapsulation: Doors can be PVC encapsulated or post-formed. Using a thermo-forming technique which involves shaping the PVC protection to the shape of the door including radius edges, offering superior impact resistance and durability. Typically, high-traffic external doors are of modern PPC / metal construction, so there have not been any requests for a PVC encapsulated door. However; PVC doors offer superior water resistance in wet areas such as swimming pool entrances or anywhere where there are increased levels of moisture.
Lamdor doors are certified for sustainable use.