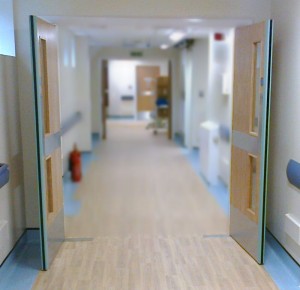 Wexham Park Hospital – Veneer-faced Doors with PVC Edge Protection
Hygienic & Safe
Humphrey and Stretton have been supplying the healthcare industry with products for many years and have a wealth of experience in recommending, specifying and indeed manufacturing doorsets for this demanding environment.
With concerns for hygiene, durability and safety paramount we have a solution for almost any door design imaginable. Veneered or laminated doors can have exposed faces finished in an anti-bacterial lacquer which kills bacteria at the source dramatically reducing the risk transferring germs known to cause MRSA, E.Coli, Salmonella and many more. This finish is available on all exposed timber faces, so lippings (edges) of laminate-faced doors, glazing beads, veneer facings and any hardwood frames and architraves.
In more extreme environments such as emergency room doors or those which are in a high-traffic area we are able to offer a PVC-encapsulated doorset, which literally wraps all doorset components (leaf, frame, architraves, glazing beads) in 1.5-2mm impact-resistant PVC. Thermo-formed to the shape of the door and fitting precisely around vision panels and hinges, these doors offer an incredibly durable solution and have been installed in Guys & St Thomas Hospital, London Bridge Hospital, West Middlesex Hospital and many, many more.
Occasionally there is a requirement for doors to be X-Ray shielded. Humphrey and Stretton can offer a lead-lined doorset to either Code3 or Code5 resistance, which can be applied to any door configuration with any finish. Vision panels can be glazed with a special lead-equivalent glass or sealed in a unit together with fire-rated glass for additional performance should there be a need for FD30 or FD60 rated doors.