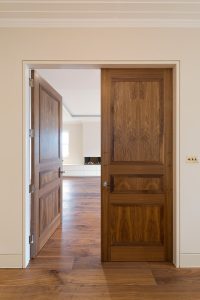 4 Horizontal Panel Engineered Door
The Bespoke Touch
The social housing market is typically made up of industry-standard sized doors and doorsets which are available off-the-shelf or in kit form from many builders merchants nationwide. As such, Humphrey and Stretton only get involved in these markets whenever there is a requriement for something a little more 'bespoke' or outside of the envelope of standard sizes. If, however, there is a requirement for Secure By Design® or PAS24 to an Entrance Door or an Internal Flat Entrance Door, we have a solution, please view our Secure By Design® product literature.
Bespoke Mouldings can be sourced to your design – please ask for more information
If a residential project is taking place at a listed building or has a requirement for high-quality designer doorsets we will be able to provide a complete package, from design through to manufacture. If there is a desire to match an existing period door design or a modern, panelled timber door we can offer what we call an 'engineered solution'. Engineered doors offer all of the aesthetics of a traditional door without the pitfalls; this means no movement of the timber and modern performance levels for fire and acoustics. Please see our section on Engineered doors for more information on how this could benefit your residential projects.